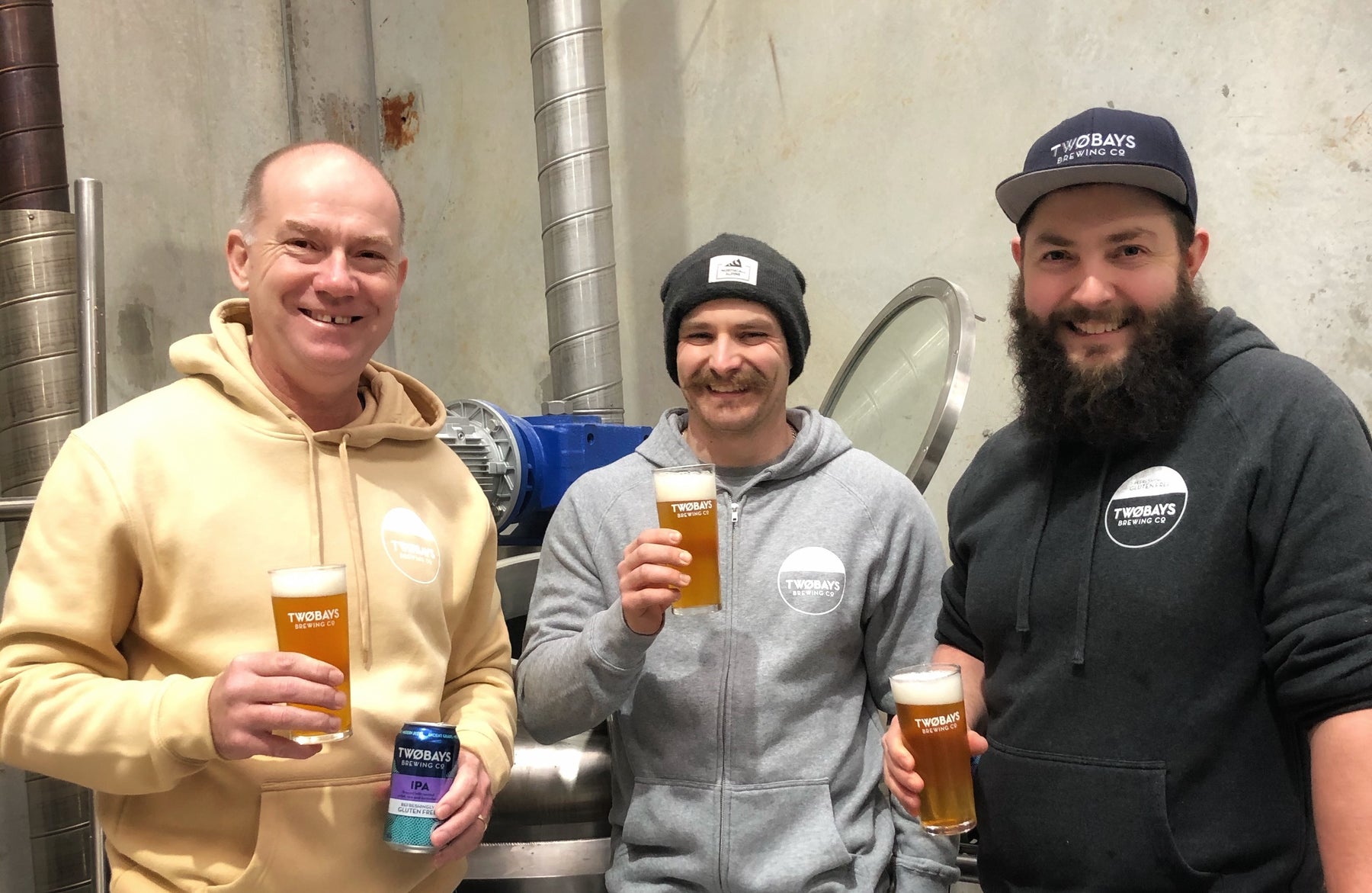 MORNINGTON PENINSULA BREWER TURNS TO GLUTEN FREE BEER
WE HAVE A NEW HEAD BREWER!
Head brewer Kristian Martin jumped on the brew deck at Dromana-based TWØBAYS this week after six years at Mornington Peninsula Brewery.
He started out in the beer world setting up the bar at the famous Carwyn Cellars in Thornbury, Victoria, while tutoring criminology at Deakin University.
"The most exciting thing about all-grain gluten free beer is that there is so much room for innovation and development," said Kristian, who is based in Somerville on the Peninsula's Western Port Bay.

CEO and Founder Richard Jeffares with the brew team Ajay Hill and Kristian Martin.
"This is what attracted me to TWØBAYS. I think people underestimate the range and diversity of gluten free beer malt. Given the quality and complexity of these malts, I wouldn't be surprised to see barley brewers incorporating some into recipes soon."
Kristian joins brewer and biochemist Ajay Hill who has been lab testing and brewing at TWØBAYS for just over a year, and it is not Martin's first experience of working with gluten free beer.
"While I did some development on another gluten free beer brand, these products were all based around sorghum and rice extracts, not all-grain brewing," he said.
"It provided great insight into the challenges gluten free beer brewers face around fermentation."
TWØBAYS Founder and CEO Richard Jeffares is delighted to have a head brewer of Kristian's calibre join us.
"TWØBAYS has grown a lot since opening just over 18 months ago and Kristian's expansive knowledge and appetite for experimentation suits the direction we want to head in. AG was instrumental in creating some fantastic recipes and beer. We wish him all the best."
TWØBAYS Founding head brewer AG is now returning to Mornington Peninsula Brewery's spiritual home in Watt Road where he teamed up with Matt Bebe again at the beginning of 2020.
Since opening in December 2018, TWØBAYS has gained a national footprint with stockists across the country carrying its beer brewed with millet, buckwheat and rice. Its core IPA and XPA are currently ranked the best two gluten free beer options in Australia on Untappd.