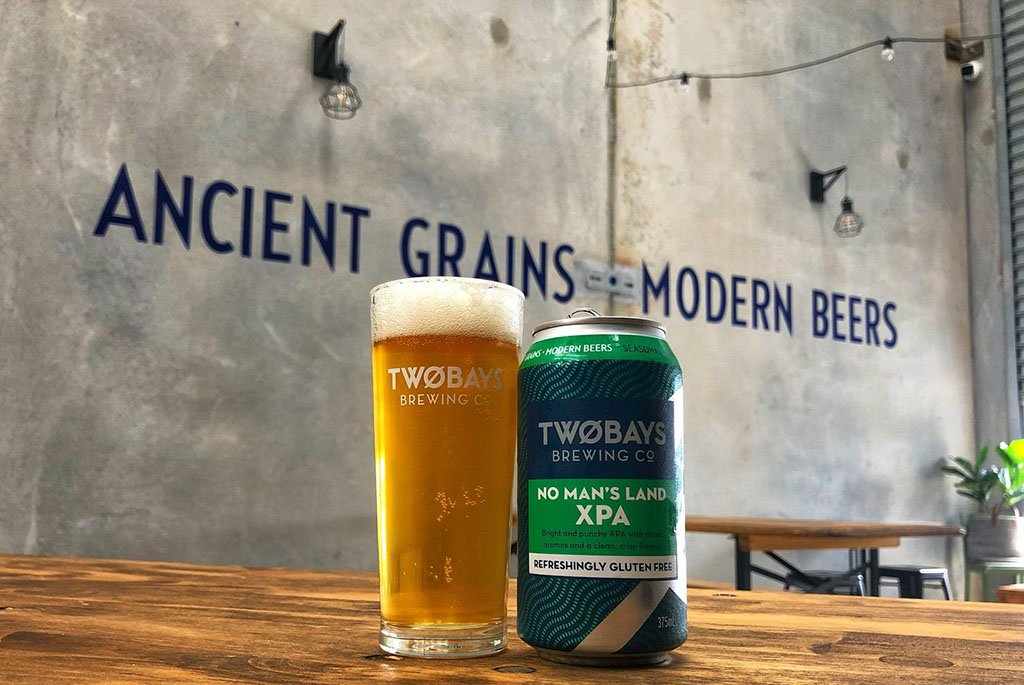 WORLD-FIRST GLUTEN FREE XPA!
Shop for No Man's Land XPA on TWØBAYS website
Find beer near you
TWØBAYS Brewing Co continues to make waves in the beer world with its release of No Man's Land XPA – the first time a gluten free XPA (Extra Pale Ale) has been commercially packaged anywhere in the world.
Since opening our doors in December 2018, we've tried to take gluten free consumers and beer lovers on an exploratory journey with alternative grains, and the XPA is the next step.
What is an XPA?
XPA stands for Extra Pale Ale – some brewers focus on colour and aim for an extra pale finish, while others shoot for a bigger version of the Pale Ale – with everything dialled up.
For us, the X-factor is an amped-up citrus flavour, which makes this a refreshingly crisp beer that sits perfectly between our Pale Ale and our IPA – great for these warmer days.
 A step into the unknown
"It's a step into the unknown for the gluten free beer world, which is why we called the beer No Man's Land," says CEO Richard Jeffares, who founded the business after being diagnosed as Coeliac in 2015.
"I missed the ability to discover new beers after my diagnosis, and after seeing the success of XPA's in the 'barley beer' world, I was desperate to try one!"
"For those consumers who avoid gluten and are looking to explore the exciting flavours of beer, it's a great place to start - especially in these warmer days. As with most traditional XPAs, it sits somewhere between our Pale Ale and our IPA; keeping the ABV at 5.0%, while providing an extra refreshing citrus kick."
Topping the charts
"We're really excited to be able to offer a new style of gluten free beer to Australia," says head brewer Andrew Gow.
"Our Pale Ale is currently Australia's number one ranked gluten free beer on Untappd, and we want the XPA to be up there too.
"The 'extra' in this beer comes from amped up flavours, creating punchy citrus aromatics." 
Where can I get it?
TWØBAYS gluten free beer can be found in more than 500 bottle shops and venues in every Australian state, including Canberra, with many of those excited to be ranging the new XPA.
The XPA is also available for tasting at the TWØBAYS Taproom on Friday, Saturday and Sunday afternoons, alongside its core Pale Ale and IPA, a lager, a Mosaic IPA, Ollie's Hoppy Brown Ale, a porter and a lentil-based mid-strength.
The details

16x 375ml | 5.0%
IBU 30 | EBC 11