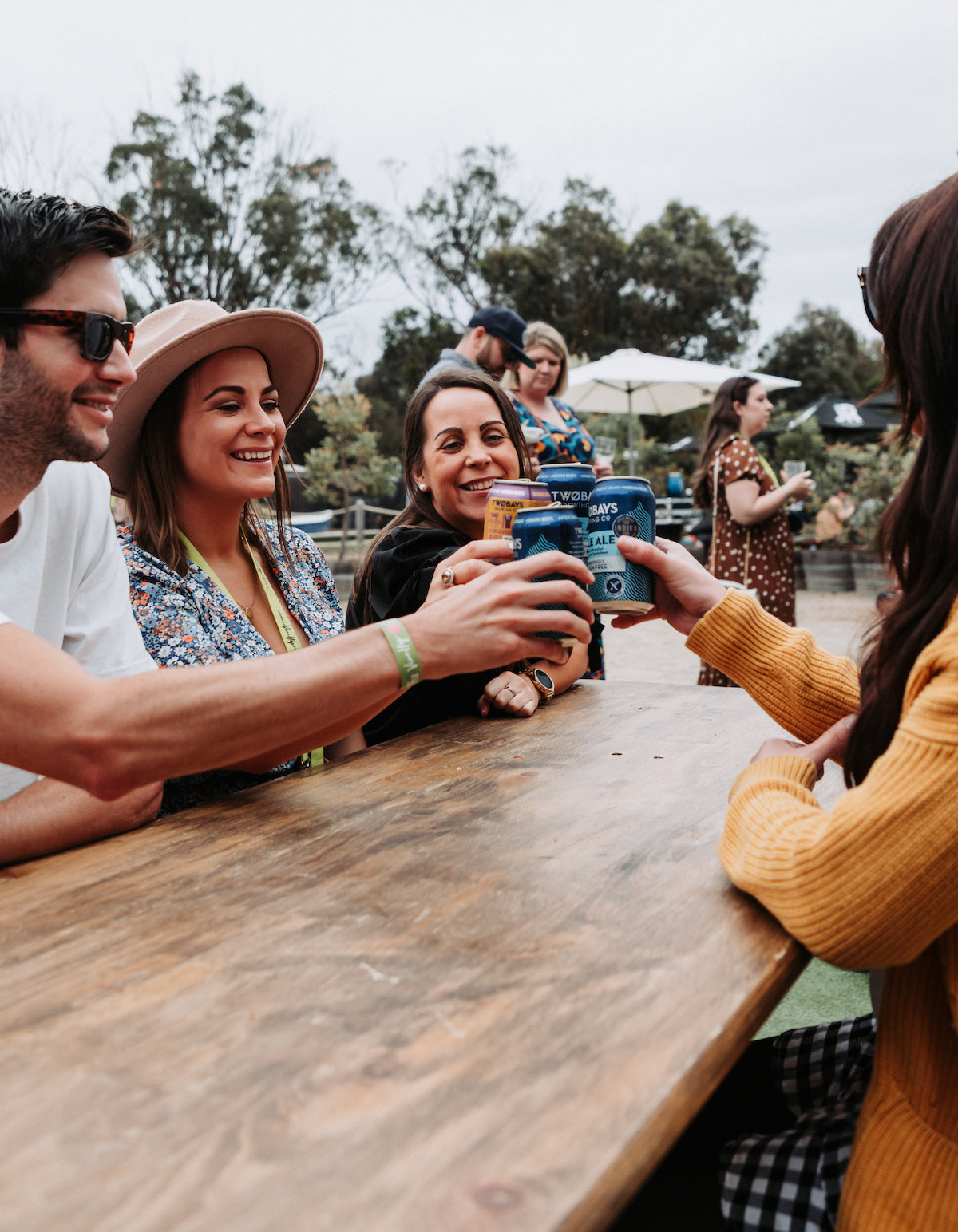 2022: A year in gluten free beer
2022: The Year We Became A 'Medium-Sized' Brewery (Finalist!). The New Year may be a time to look forward (and there's plenty of exciting news to come), but we also believe it's important to take a moment to pause, raise a gluten free beer to you and to us, and take a look back. 
With gold medals for GFB Draught, Pulp Fusion Passionfruit Sour, IPA and Session Ale – and reaching the Indies Finals for Champion Medium Brewery, 2022 was another strong year. Erin, Grant, Blake and Steven joined the brew team, and Nathan took over as Marketing Manager, with Josh joining our Sydney Sales Team as we re-launched Stout and Pulp Fusion as Seasonal Beers, in addition to speciality releases Mandarin Lager, GABS Collab Almond Milk Porter and Nectaripa NZIPA. Three new HUGE tanks increased our brew capacity by 66% and we won Mornington Peninsula Business Awards Agriculture & Manufacturing Business of the Year!
January – Taproom Summer Sessions
Jazz quartet The Collins Street Collective played the soundtrack to summer as gluten free beer revellers danced their way through a beautifully long holiday season at the TWØBAYS Taproom Summer Sessions!
February – in love with shiny stainless steel
With the successful launch of our second brand GFB, and TWØBAYS beers – new and old – getting into the hands of more and more thirsty gluten free beer drinkers,
we installed 
two new 8,000-litre Fermenters and another 8,000-litre Bright Tank
to increase our brew capacity by 66% (after a 120% boost in 2020). Here's a reminder of how it all works!
March – a road trip with 'Mandy'
Following Australia's first 'Free The Taps' gluten free beer tap takeovers in 2021, we went back on the road, pouring at 10 venues across the country to support Coeliac Australia Week, with 
three Tasmanian venues joining the tour and
Canberra's first ever gluten free beer tap takeover.
 New limited release Mandarin Lager was the star of the show!
April – Gluten Free Decadence
We collaborated with the good folk at Springhill Farm, who specialise in gluten free and vegan slice, to create the ultimate Easter Gift Set with three of their cocktail-inspired Boozy* Slices, complete with a game of Never Have I Ever!
May – Gluten Free Gold!
GFB Draught and Pulp Fusion Passionfruit Sour picked up gold medals at the 2022 AIBAs, while 2021 Indies gold medal-winning No Doubt Stout returned as a seasonal beer, going straight on to a brand new nitro tap at the Taproom and across the country for the remainder of the cooler months.
Later in the year, First Choice Liquor Market and Dan Murphy's took GFB Draught into their fridges as part of another national rollout across chain and independent stockists. 
June – GABS and the great gluten free vegan porter
First brewed for the Great Australasian Beer SpecTAPular (GABS), where we called it Almilkilla to keep it top secret, our vegan Almond Milk Porter, infused with vanilla, was created so that those living a gluten free and vegan lifestyle could sample the delights of a milk porter too.
July – Coeliac Australia Gluten Free Expos return
After the global pandemic put paid to events for a couple of years, Expos finally returned in the winter, with TWØBAYS setting up stall in Sydney, Brisbane, Perth and Melbourne – keep eyes peeled for more in 2023!
August – Teaming up with The Fox for gluten free pairing
We continued on the events train with another amazing food-paired gluten free evening in August – Gluten Freedom at The Fox Collingwood!
September – NZ & German Beers PLUS The Grand Final!
In a month where we launched NZIPA Necatripa, featuring the Nectaron hop, our Pale Ale landed in MCG Fridges for the AFL Grand Final and we tapped our first OktoberGFest Bier!
October – More gold at the Indies
Not only did we win two gold medals at the 2022 Indies (IPA's second gold and Session Ale first gold), we won five silver medals and two bronze medals – and we were a finalist for national Champion Medium Brewery (selected from the hundreds of breweries that entered) alongside some of the finest breweries in the land; Wolf of the Willows, Barossa Valley Brewing, Moffat Beach Brewing Co. and Range Brewing. 
And we released The Taster pack, so you can taste all of our award-winning beers!
November – Gluten Free Beer & Gin Slushies!
Pulp Fusion Passionfruit Sour Fruit Beer returned for summer in November, with Vinehop Festival in full swing and a collaboration with (very) local distillery Bass & Flinders to create a gin and beer passionfruit slushie! 
December – Celebrating 4 years of gluten free beer
 We celebrated the brewery's fourth birthday on 7 December, before launching our Hottest 100 campaign and selling through all of our Pale Ale in the MCC Members' Bars at the Boxing Day Test Match!