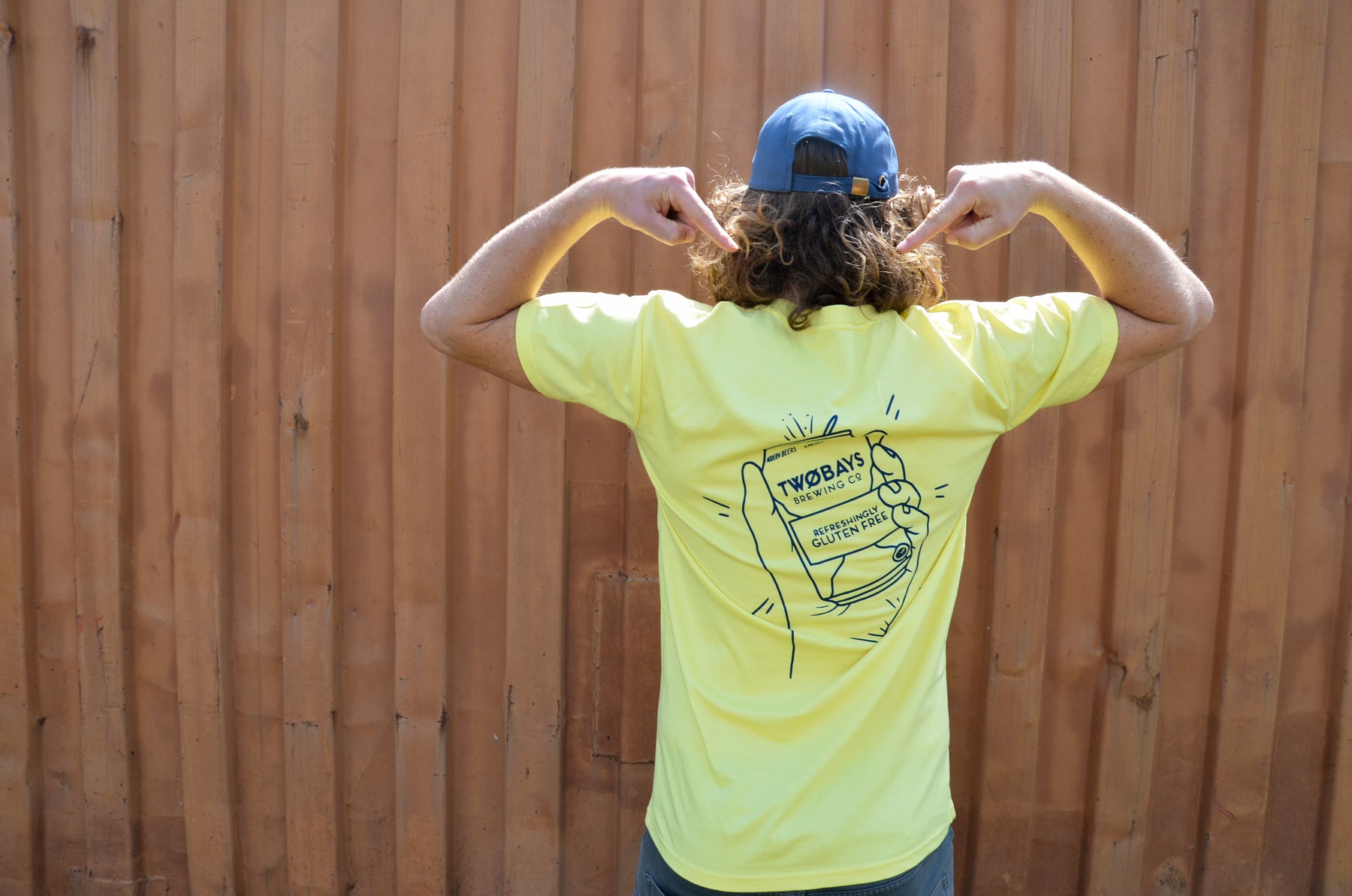 A brand new journey through gluten free beer
In the Socratic dialogue Republic, Plato famously wrote "our need will be the real creator". Necessity is the mother of innovation, the 21st Century translation reads.  
Regardless of which you prefer, rather than crying into his pint of cider, TWØBAYS founder Richard Jeffares discovered innovation in his Coeliac Disease diagnosis. A hearty road trip around America followed and Richard knew gluten free beer and a craft beer taproom would fly in Australia. Coming from a corporate background, he was also excited to wear beer T-shirts to work every day. 
Months later, the brand TWØBAYS was born and the brewery raised its roller doors in December 2018. 
We were opening a brave, new chapter for gluten free beer and we needed a bold brand to represent us on the mission. The idea was big, but simple: get a great range of craft beer into the hands of those who couldn't otherwise easily access it. 
The TWØBAYS dark blue is a strong, confident colour with a nod to our water-locked heartland between Port Philip Bay and Western Port Bay, hence the name TWØBAYS. And the silver speaks to the industrial roots of our beer, hand crafted in stainless steel tanks. 
Of course, there is far more to the TWØBAYS brand than just the logo and our brand colours – there is our unwavering belief in inclusivity, exploration and mateship – and our purpose to push the boundaries without compromise; consistent in quality; varied in style; all-grain and always gluten free.  
This has played out in a fast-paced and adventurous narrative over the last four years, with 20 different beers released in cans – exploring almost as many different styles – more than 50 different beers kegged and poured at our Taproom on the Mornington Peninsula, and a second brand added in GFB. 
Can designs have evolved, from the repeatable formula of our Core Range look and feel – firstly Pale Ale before IPA, XPA, Lager and Session Ale joined – to our speciality limited edition release beers and now seasonal No Doubt Stout, all underpinned by a wave pattern that signals our home base love for the water. Our Collaboration Series takes on another level of flexibility again – think Ball Park Bloom and Margarita Sour. 
There have been campaigns aplenty, including Love Stories and Tap Takeovers across the country – Taps on Tour, Free The Taps and most recently Gluten Freedom – enabling the TWØBAYS brand to spread its wings and incorporate less structured designs, thanks to the illustrations of our in-house designer Hannah. 

"The TWØBAYS brand is versatile and evolving day-to-day. By bringing in strong visual campaigns incorporating illustration, our young brand has become increasingly memorable, differentiating itself within the gluten free beer category." says Hannah, Graphic Designer and Marketing Coordinator.
And in the same way that Richard innovated from necessity, James Smith, Will Ziebel and the Crafty Pint team launched Keeping Local Alive in March 2020, a movement to help galvanise the beer industry and the wider community during the pandemic. 
From that campaign spawned the inaugural Beer Swag Day on 23 May 2020, inspired by triple j's Ausmusic T-shirt Day; a new way for beer fans to get behind their favourite local beer businesses. Two years on and Beer Swag Day 2022 has been postponed with Good Beer Week falling victim to the ongoing impact of staffing issues following continued effects of Covid-19.  
That didn't stop us designing and producing new merch for our community to continue to drink, sleep, wear TWØBAYS! 
"TWØBAYS has always been a relatable brand, firmly focused on creating a community and enhancing gluten free lifestyles," says Mel Tantuccio, TWØBAYS Head of Brand and Marketing. 
"Now the brand belongs to the community and the fans we have built along the way. We all love wearing and sharing our favourite brands, especially when they align with our values. It's not just merchandise, it's a part of our daily fabric, keeping identities alive and enabling people to be proud of what they believe in." 
Why the strike Ø?
The Ø means many different things to many different people across the world. To us, it means there is zero gluten in all of our beers. It also visually represents our home, the Mornington Peninsula, dividing two bays. 
Why the interlinked W?
The cross over W is representative of the combination of Ancient Grains and Modern Beer, our brand essence.