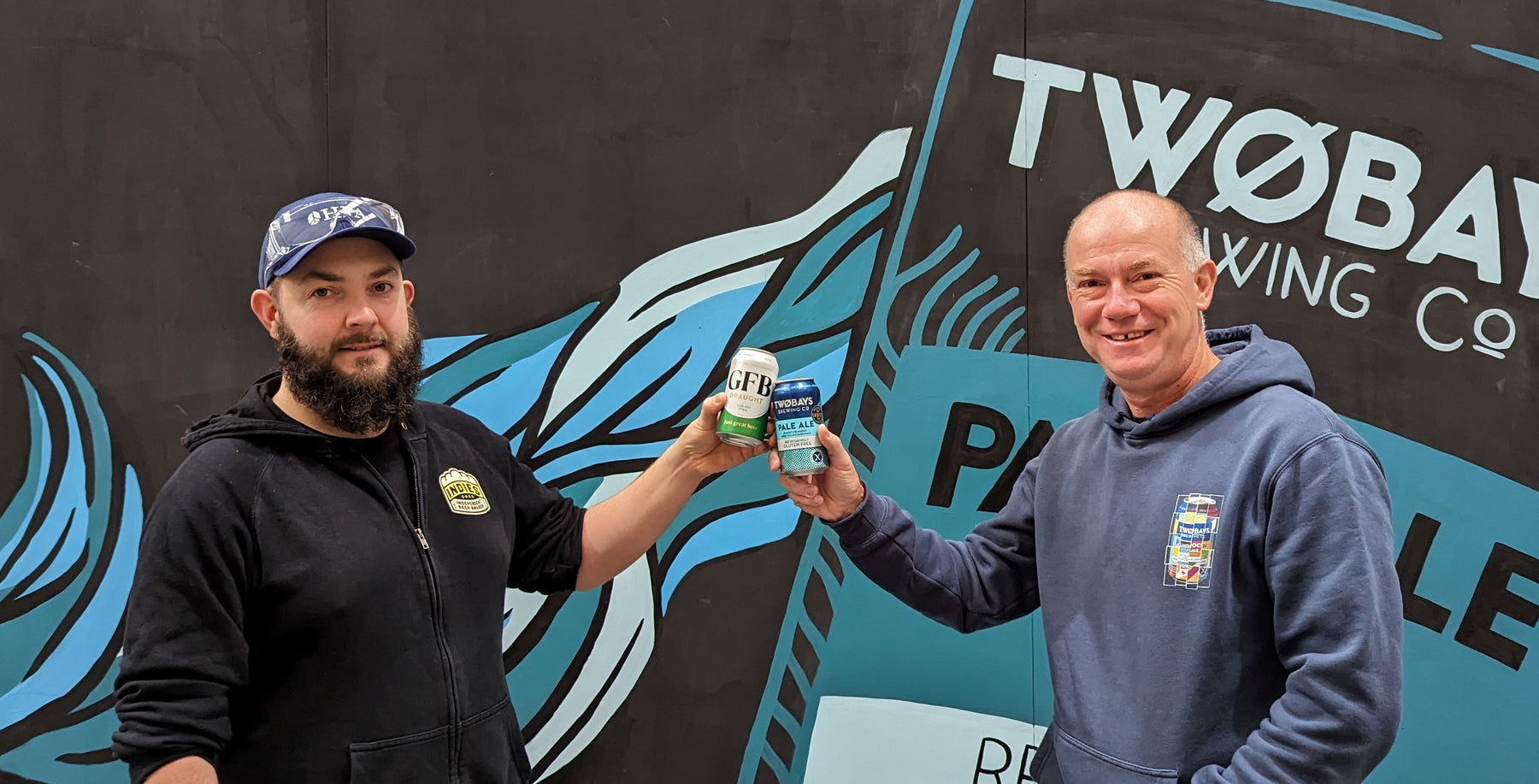 Gold Standard: Gluten Free Beer Quality Bubbling Up
A range of gluten free beer for everyone
TWØBAYS has always brewed gluten free beer so that people who avoid gluten don't have to miss out on exploring different styles and flavours. But the mission never compromised quality, as judged at the Australian International Beer Awards (AIBA) in Melbourne last night when our two flagship beers both landed gold medals.
Our very first release, TWØBAYS Core Range Pale Ale won its second Gold Medal (first gold AIBA), and GFB Draught completed back-to-back AIBA Gold Medals, having won its first in May 2022.
>>> Pick up gluten free beer at a bottle shop or venue near you <<<
Gluten free beer at Good Beer Week
In a Good Beer Week where gluten free beers were served at three prominent craft beer pub events in Melbourne, this is another sign that the quality of gluten free beer is no longer viewed as inferior to "barley" beer.
"While gluten free beer is judged in its own category at these awards, it is still marked against the same criteria; appearance, aroma, flavour and body, technical quality, and likeness to style," says Founder Richard Jeffares.
"I believe it's much harder to be able to get your core range, higher production volume beers to gold medal standard (and keep them there), than small batch beer – so huge congrats to Kristian, Stephen and Grant for getting recognised in this way… brilliant!"
"We are extremely proud to have added another two gold medals to the hero beers of our two brands. The whole TWØBAYS team have worked brilliantly and tirelessly to ensure the quality of everything we do is as high as possible."
"I always knew that gluten free beer was not inferior to "barley" beer, and we're now proving that to the rest of Australia. The category is growing fast, and quality, range and availability is rising with it."
TWØBAYS Gluten Free Pale Ale
We love medals, but what we love even more is feedback from drinkers across Australia.
The most recent Pale Ale review from Nick W. reads: 
"[Pale Ale] is my favourite beer, not just my favourite gluten free beer. It packs a lot of flavour, and is super refreshing at the end of a hard day. I love it more then beers containing gluten because I don't feel bloated afterwards." 
The 2023 AIBA judges said:
Low level hop aroma of tropical fruit well complimented by chosen grains. Green, resinous hop apparent in flavour with a good level of bitterness for underlying style. Clean finish
Gluten Free GFB Draught
Melissa D's GFB Draught review reads:
"Love the simplicity of this full flavoured beer and the full case size! Great value for GF. Thank you."
The 2023 AIBA judges said:
Clean well balanced beer.

Nice grainy character, soft hop nose, light finish , good drinkability

Parfumey aroma as it warms, with a mild grainy type character, presents well, light bodied, balanced finish.
The medals represent the ninth and tenth golds we have won across the AIBAs and Independent Beer Awards (Indies), taking the overall medal tally to 46 in nine competitions across less than four years.
No Doubt Stout won its fourth medal and second silver at the 2023 AIBAs, having also won gold and bronze since its release in 2021. TWØBAYS Core Range beers Session Ale and Lager both won bronze medals; their third and fourth medals respectively.
"It's the consistency that I'm really pleased with, as well as winning the golds," says Jeffares.
"Winning silver and bronze medals is still a major achievement, with a significant percentage of the beers entered across all categories not winning medals at all."
"It goes to show how far gluten free beer has advanced, and there is still so much to do. Just last week we released a Pumpkin IPA at GABS, having launched a wet hop IPA and a Schwarzbier last month.
"We're on an expansive beer journey and it's a lot of fun; especially knowing that we're delivering a wide range of quality beers to people in Australia who cannot just walk into their friend's house, their local bottle shop or pub and drink anything."
Celebrating 30 years in 2023, the Melbourne Royal Australian International Beer Awards is the largest annual beer competition in the world judging both draught and packaged beer, as well as beer packaging design. In 2023, the Awards attracted over 2,826 entries from more than 400 breweries in 21 countries.
Thank you to everyone involved.