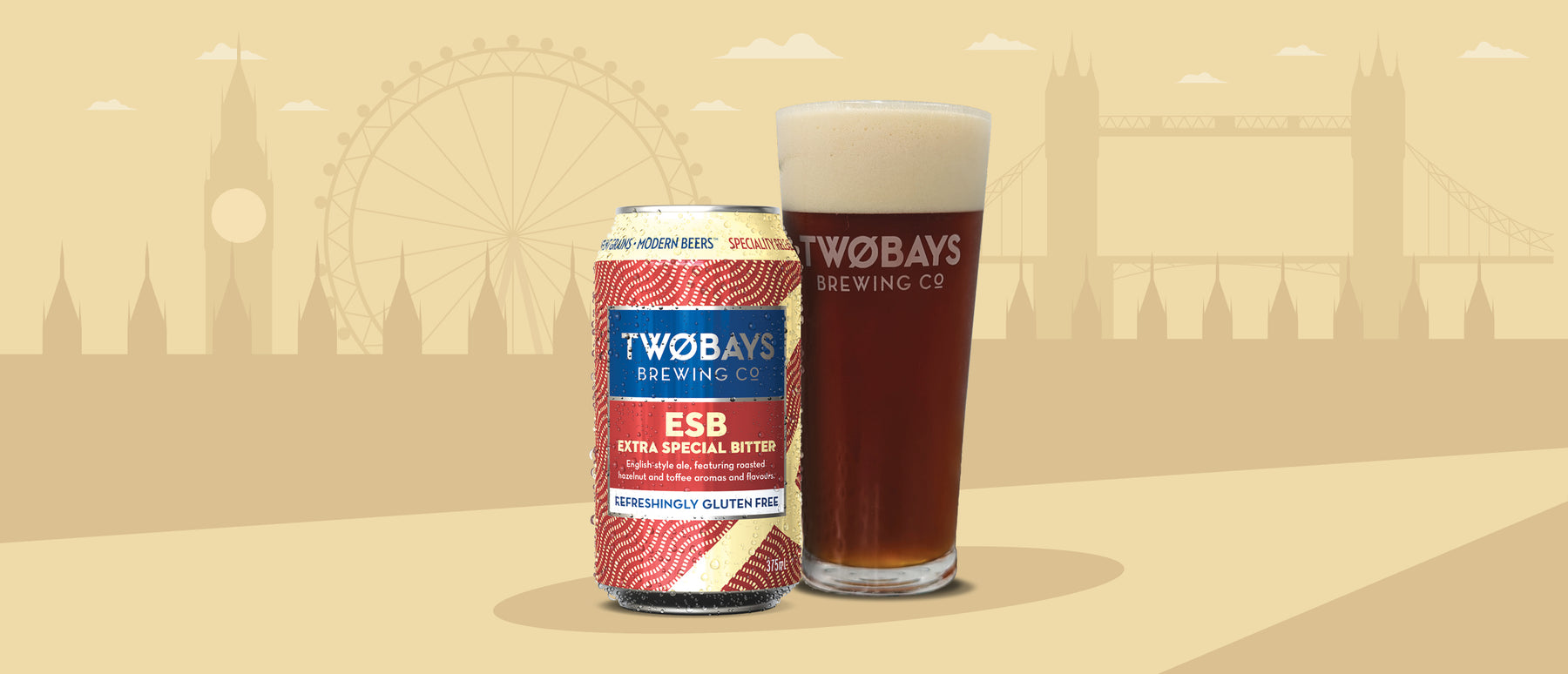 Extra Tasty Gluten Free Beer
We think it's only fair that gluten free beer drinkers have the opportunity to taste as many different styles of beer as possible – with nobody missing out on traditional or new-world brews because of dietary intolerances. It's just not cricket!
Which is why the TWØBAYS winter release is ESB.
What is ESB gluten free beer? 
An ESB – technically Extra Special Bitter – is an English-style Pale Ale – gold to copper in colour – pairing well with all those great English feeds; roast chicken, fish and chips, British-style cheeses and bread pudding.
It's a true seasonal beer, and the brew team has nailed it with this rich, malty beer; perfectly balancing sweet and bitter flavours and mouthfeels.
What does TWØBAYS ESB Gluten Free Beer taste like?
With TWØBAYS ESB, you can expect malty, toffee notes upfront, giving way to a marmalade-like English-variety hop character of East Kent Goldings, finishing with lingering roasted hazelnut flavours.
It's another malt-forward beer to add to our range, adding opportunity for gluten free beer drinkers to sample heavier styles outside of Stout and Porter. 
ESBs were big around the early 2000s when the craft beer market took off in Australia, but it's a beer that consumers don't see on the shelves too often; there are not many chances for breweries to explore classic styles. Now the style is making a comeback.
We released a pilot brew for our Taproom and the Free The Taps national tap takeover in March – this was the response of one drinker in Sweeney's Hotel in Sydney: 
What are people saying about TWØBAYS ESB Gluten Free Beer?
"Really nice. Not a style I usually try but always try what these guys create as they are usually pretty great. Well done." Lance H.
What makes this gluten free beer a bit different to any other ESB?
Our own twist on the beer is Kristian's use of a New England yeast – a more recently developed dry yeast – that gives off a slightly fruitier profile than the classic English ale yeast that would usually be used in an ESB. We also use yellow corn in the brew!
What does Head Brewer Kristian say about this gluten free beer?
"We're really pleased with how this beer has come up," says Head Brewer Kristian.
"It profiles as it should be consumed, creamier and softer with a longer palette than a classic Australian Pale Ale.
"The yellow corn malt balances the body, softening the intensity of the darker malts."
In addition to the yellow corn malt, the beer features Vienna and Cara Millet Malts, Caramel 90 L and Griffin malts, which provide the depth, colour and body.
Griffin malt is more like a caramel malt without the roastiness and nuttiness. Instead, it offers aromas of plum, toffee, caramelised sugar and chocolate. While similar in colour, it is not the same malt as the caramel 90 roast – also in this ESB – as it was kilned at higher temperatures, but not roasted, allowing for the development of dark colours without the roast-like characteristics which can be overpowering. 
What does CEO and Founder Richard say about this gluten free
 

beer?

"This is another cracking beer," says Richard.

"Half of our marketing department is English (discounting the first decade of life spent in Ireland), and they've been clamouring for an ESB in cans since day one. They don't have to worry about drinking gluten free, but they know how good the brew team is and what a beautiful ESB they would brew!"

"We actually opened the taproom back in 2018 with an ESB called Local Knowledge on tap; it was really popular, but we've had so many beers to explore, we just didn't get around to brewing another – until now!"

"In fairness, I've been really looking forward to this too, and it doesn't disappoint."
Where can I taste TWØBAYS gluten free beer ESB?
ESB will be on tap at our Mornington Peninsula brewery taproom in Dromana and in selected independent bottle shops and venues around Australia. It's also available to order online here.