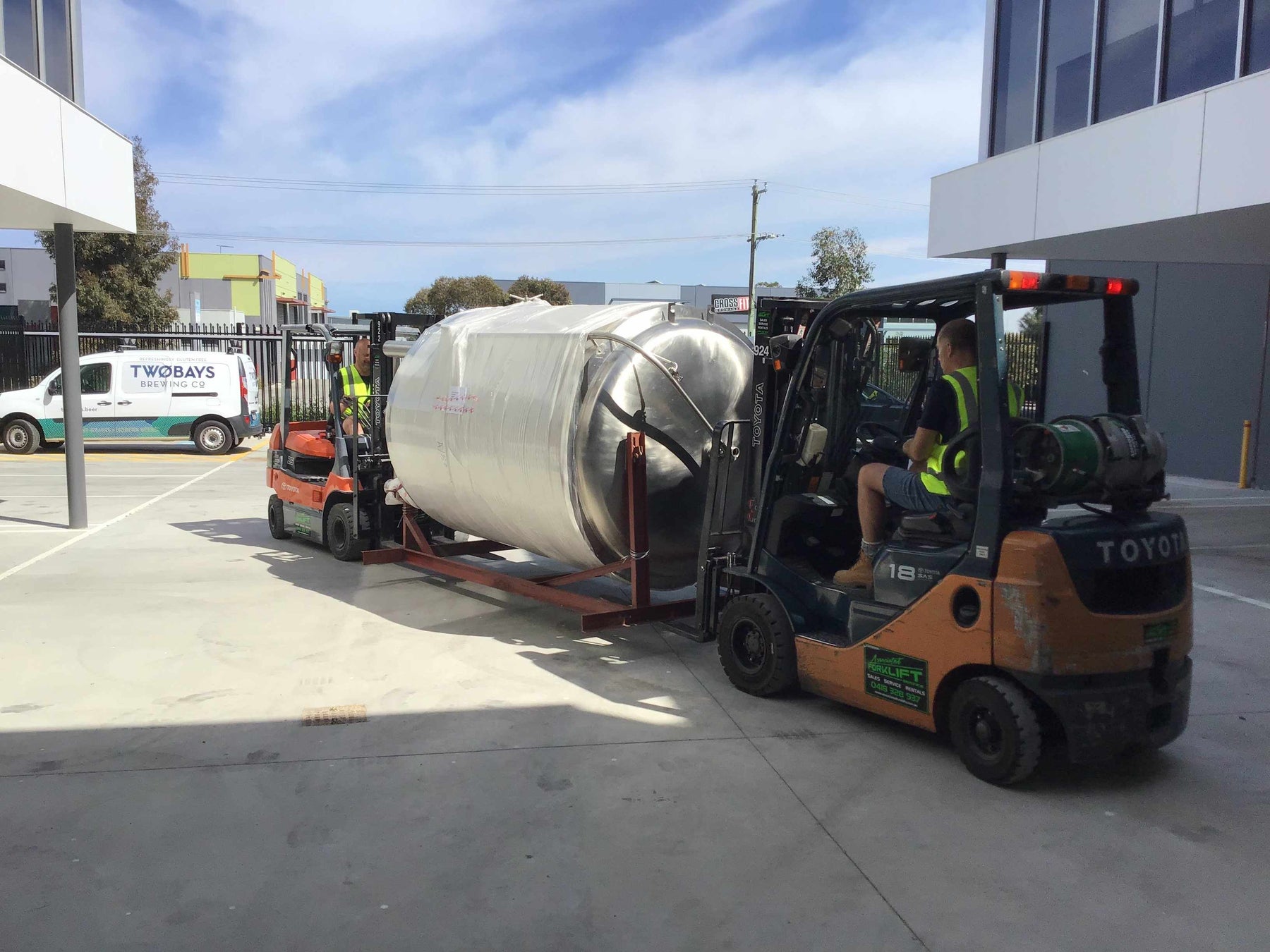 TWØBAYS BIG BREWERY IS HERE!
Christmas Day, Birthday and a Premiership Flag all rolled into one – TWØBAYS BIG BREWERY IS HERE!
Sparks flying and forklifts dancing – even the Mornington Peninsula sun fired up for two of the three installation days.
It was the Friday night call we had been dreaming of – the brewery had arrived from China. It was in Port Melbourne, through customs and set for delivery early the following week.
And barely was our Little Rebel coffee brewed when we chased the first of four containers to TWØBAYS HQ. Big shiny stainless steel at last!
The trucks rolled in through Monday and Tuesday, and it was all hands-on-deck to get everything safely inside.
The cranes pulled up on Wednesday, and with our expert planning(!) and very high ceilings, 12 tanks were moved into place in just over four hours.
Our brewery dog Ollie cleared up the packaging while friends and family stopped by to admire the brewery. Suddenly the vision of enjoying a gluten free beer while eyeing up the stainless steel didn't seem too far away.
And it's not. We're wading through a thick wad of red tape, batting curveballs away with aplomb. We have recipes ready and now we can really get the gluten free beer flowing.
The public certainly approves – our 2,500 samples were met with a lot of lip smacking and happy faces at the Melbourne Gluten Free Expo. It was the first public unveiling of our gluten free beer and we handed power to the public to decide which Pale Ale we should launch with.
That Pale Ale is now locked and loaded, Coeliac Australia endorsed, and ready to be brewed on the big system.
Before our head brewer AG gets feet on the new brew deck (he is chomping at the bit), our friends from Tiantai (who manufactured the brewery) will get everything connected.
Then it's game on. (Fingers crossed for packaged beer before Christmas!)