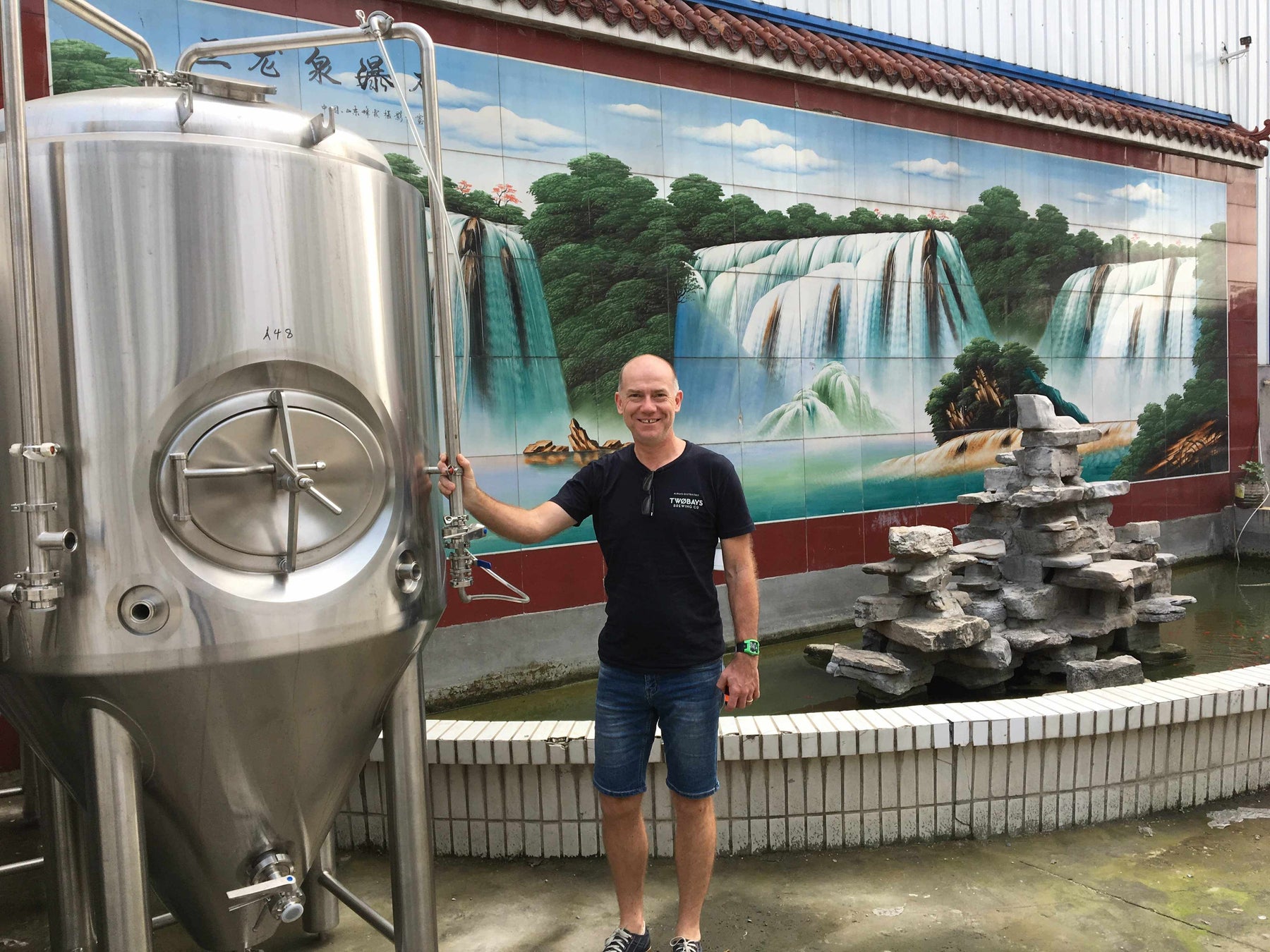 HOW WE AVOID CONTAMINATION IN TWØBAYS GLUTEN FREE BEER
We travelled to China earlier this month to meet our big brewhouse
With TWØBAYS Pale Ale recipes locked in, our 300-litre pilot system is screaming out for its big brother to arrive.
So it was very exciting to see Tiantai Beer Equipment Co. applying the final touches to the TWØBAYS 2000-litre brewhouse.
Independent craft breweries are popping up all over Australia. Any why not? Making great beer is fun!
But TWØBAYS Brewing Co is Australia's only dedicated gluten free brewery and tap room. That means we brew exclusively with gluten free malts in a dedicated gluten free site, using equipment that has never come into contact with gluten.
We have taken the risk of gluten contamination out of the equation. In our opinion, even the most thorough of brewhouse cleans cannot provide such certainty.
Head brewer Andrew 'AG' Gow is brewing all grain beers with millet, buckwheat and rice, so our whole brewhouse had to be brand new, making the beer 100% safe for everybody.
It looks and works the same as any other brewery but knowing it has never seen a grain of wheat, barley or rye provides absolute assurance.
Making beer for everyone is not easy, but we will not take any risks
The whole production cycle will run at our brewery here in Dromana on Victoria's beautiful Mornington Peninsula.
We import the malts from dedicated gluten free maltsters in Colorado and California.
Then we mill in our dedicated mill; brew and ferment – all on site – before sending gluten free beer out (very soon) to homes, bottleshops and venues across Australia.
We also want quality control over the taste and presentation of our beer
We will not jeopardise anything that could affect a great craft beer experience. That is what we are trying to recreate for everyone, especially those who can't enjoy it elsewhere.
Eliminating any risk of cross contamination entails a lot of extra effort, but it is all worth it for a 100% safe experience – and bloody great beer.
Visitors to our brewery and tap room will be able to enjoy drinks and pizza – and see the stainless steel in action – when we open this summer. We're making beer for everyone, so we feel as if everyone should be able to see what is going on.
We can't wait!