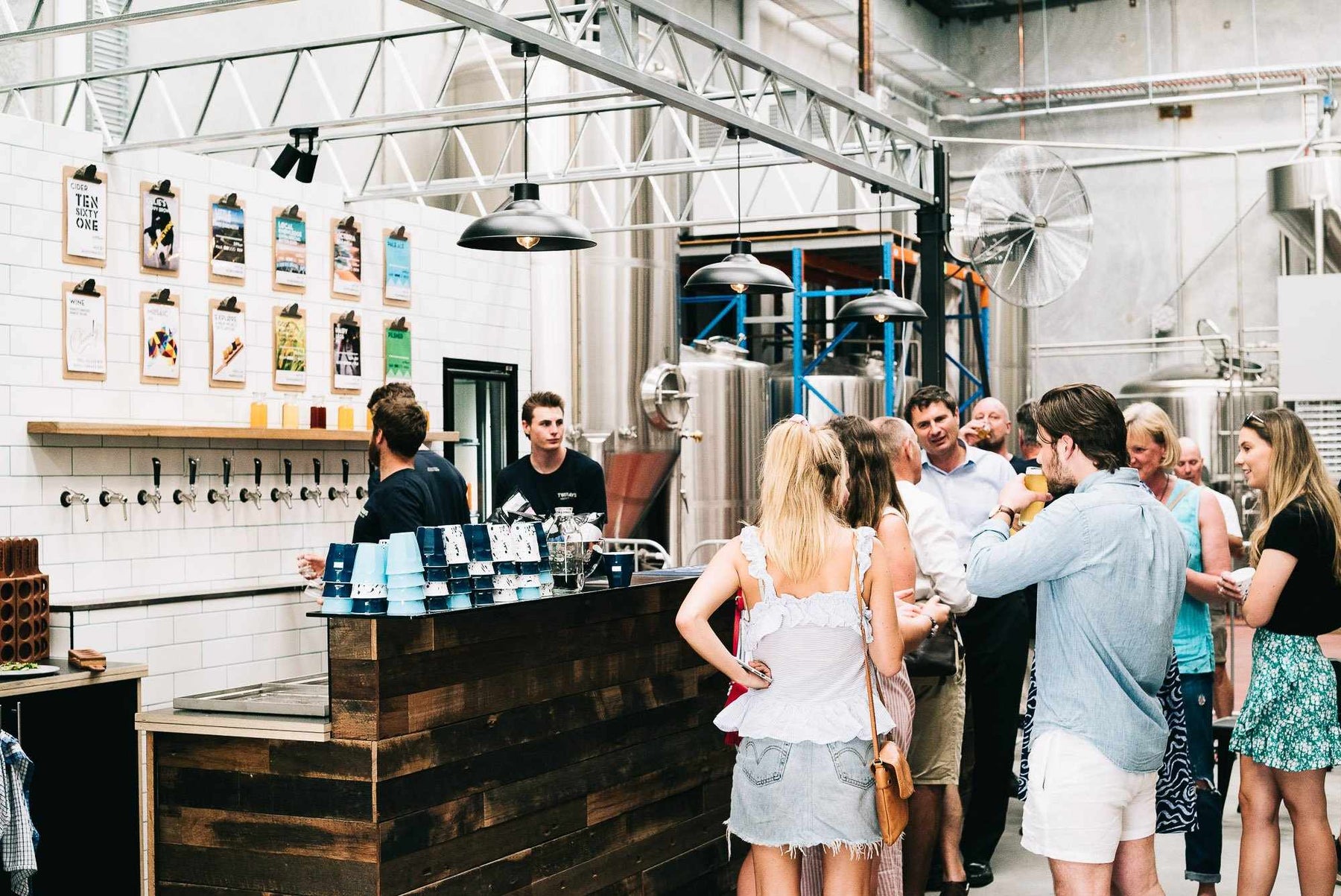 AUSTRALIA'S FIRST DEDICATED GLUTEN FREE TAPROOM – NOW POURING HOPPY BROWN ALE!
Australia's first dedicated gluten free taproom and brewery opened last weekend – and we've brewed a Hoppy Brown Ale for round two!
Øllie's, named after headbrewer AG's dog, adds another dark beer to the menu,
tasting fantastic – and giving off chocolate aromas with moderate bitterness and light roasted toffee notes
The taproom launch on Saturday 8th December marked a significant milestone for TWØBAYS Brewing Co, as we present a new, refreshingly gluten free range of beer to the market.
Patrons travelled from all over Victoria for gluten free beer and pizza, with the four-glass tasting paddle proving most popular.
Read some of the google reviews here.
Founder Richard Jeffares says, "The best part of opening was seeing the happiness on the faces of our patrons when they had the opportunity to explore a tasting paddle."
"I loved the conversations people were having about each beer – what they liked, what they didn't," added Jeffares.
"It was the sort of experience I remember from my 'pre-gluten free days'! I was also surprised by how many 'non-gluten free' people came along to try the beers, because they were interested in beer made from the different grains. They all stayed for a few beers… I think that is a good sign!
Richard (diagnosed Coeliac in 2015) was inspired to create the full craft beer experience after travelling to the United States in 2016, where he found a number of dedicated gluten free brewpubs and taprooms.
TWØBAYS Brewing Co also received its printed cans in the week – ready to fill up with glorious Pale Ale for our Clan to purchase online first – before we make it available in our taproom.
Headbrewer AG says, "Brewing with gluten free grains such as millet, rice and buckwheat offers a fresh set of challenges and new sensory experiences. It's early days but I see no reason why we can't make beers for everyone to enjoy, gluten intolerant or not."
PLEASE NOTE: Our taproom is cashless! 
OPEN:
Friday: 3pm-late
Saturday: 12pm-late
Sunday: 12pm-late 

VISIT:
Unit 1, 2 Trewhitt Court
Dromana, Victoria 3936
EMAIL taproom@twobays.beer
CALL 03 5910 0880 
ALSO POURING IN THE TAPROOM:
PALE ALE
Easy-drinking American hopped ale with a fruity palate & citrus aromas
PILSNER
German influenced lager with delicate herbal & citrus notes
VICTØRIA
Dry-hopped pale ale with Victoria Secret hop lending it piney aromas
HAIRY LEGS
A highly-hopped IPA showcasing Simcoe & Mosaic hops with pine and fruit aromas
LØCAL KNØWLEDGE
English style Extra Special Bitter (ESB) with dark malt aromas
GOSE AGAINST
German style gose (pronounced 'goes-uh') brewed with coriander, salt & lime
LITTLE ARTHUR
Mid-strength ale with light fruity character
ØLLIE'S
A hoppy brown ale with subtle chocolate aromas, moderate bitterness & light roasted toffee notes