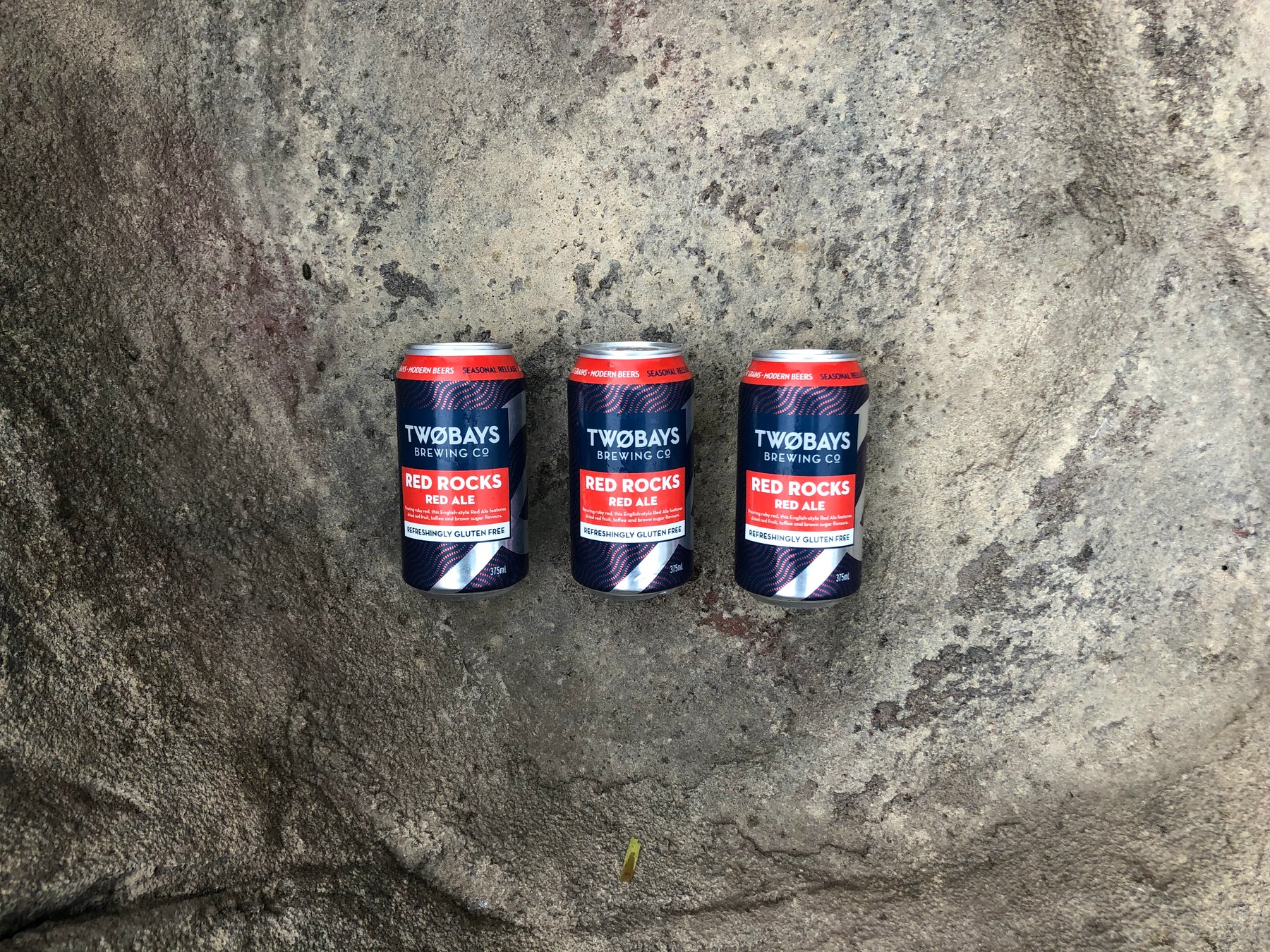 #5 LIMITED RELEASE: WELCOME TO RED ROCKS!
Available online for home delivery now
Soon to be available in selected independent retailers
Australia's First Gluten Free Red Ale on shelves
We set yet another milestone in our craft beer journey this week when we released Australia's first Gluten Free Red Ale!
Our latest limited seasonal release, Red Rocks, is a 5.0% English style Red Ale – decadent toffee, dried red fruit and brown sugar flavours – pouring an elegant ruby red, with hints of pine and caramel on the nose and rich malt complexity.
"This is the most challenging beer we've put out in cans to date," says Founder Richard Jeffares.
"Given the style, it's critical that  the malt flavour really stands up - and that exposes the alternative grains that we use. We're super delighted with Red Rocks – it's another big step in our journey of exploration."
"We wish we could share this with our supporters at our craft beer Taproom and brewery Dromana – hopefully it will be safe to open up in coming months."
Why a Red Ale?
Exploring beers such as a Red Ale is exactly what Jeffares missed after being diagnosed with Coeliac Disease in 2015.
And he named this beer after his native Ireland and the Mornington Peninsula, where he now resides and where he opened TWØBAYS Brewing Co late in 2018. Red rock is naturally prevalent in Mount Martha and Red Hill and, of course, will be forever famous for U2's 1983 Under a Blood Red Sky gig, and Bono's proclamation Welcome to Red Rocks! 
Where can I buy the Red Ale?
The beer will be available in independent bottle shops and venues across the country from week-commencing 24th August – or can be ordered online for gluten free beer delivery to home. 
Alongside our core range, which includes a Pale Ale, XPA and IPA, we've now released the following:
Ollie's Hoppy Brown Ale

No Man's Land XPA

Breakaway Summer Ale

Mosaic IPA 

Red Rocks Red Ale
"We're just getting started," says Jeffares.
"The Brew Team is really starting to understand the gluten free malts and now we can push the boundaries even further. We're taking the gluten free community on a craft beer odyssey – a journey of exploration some will have never experienced."
What else is available?
Our core range still leads the way, taking the mantle of Australia's best gluten free beer in each of its respective style categories (according to Untappd). 
Our 4.5% Pale Ale is an easy-drinking classic, with the millet malt-base making for a slightly lighter body than barley beer drinkers might be used to. A beautiful hop balance brings through citrus aromas.
The 5.0% XPA was first released as a world-first called 'No Man's Land' before it joined the core range. With an amped-up hop profile, this is a crisp and flavoursome beer.
And our 6.0% IPA dials up the body and flavour again, with pine and fruity aromatics up front quickly overrun by malt sweetness on the mid-palate – followed by a well-balanced, but nicely present bitterness.