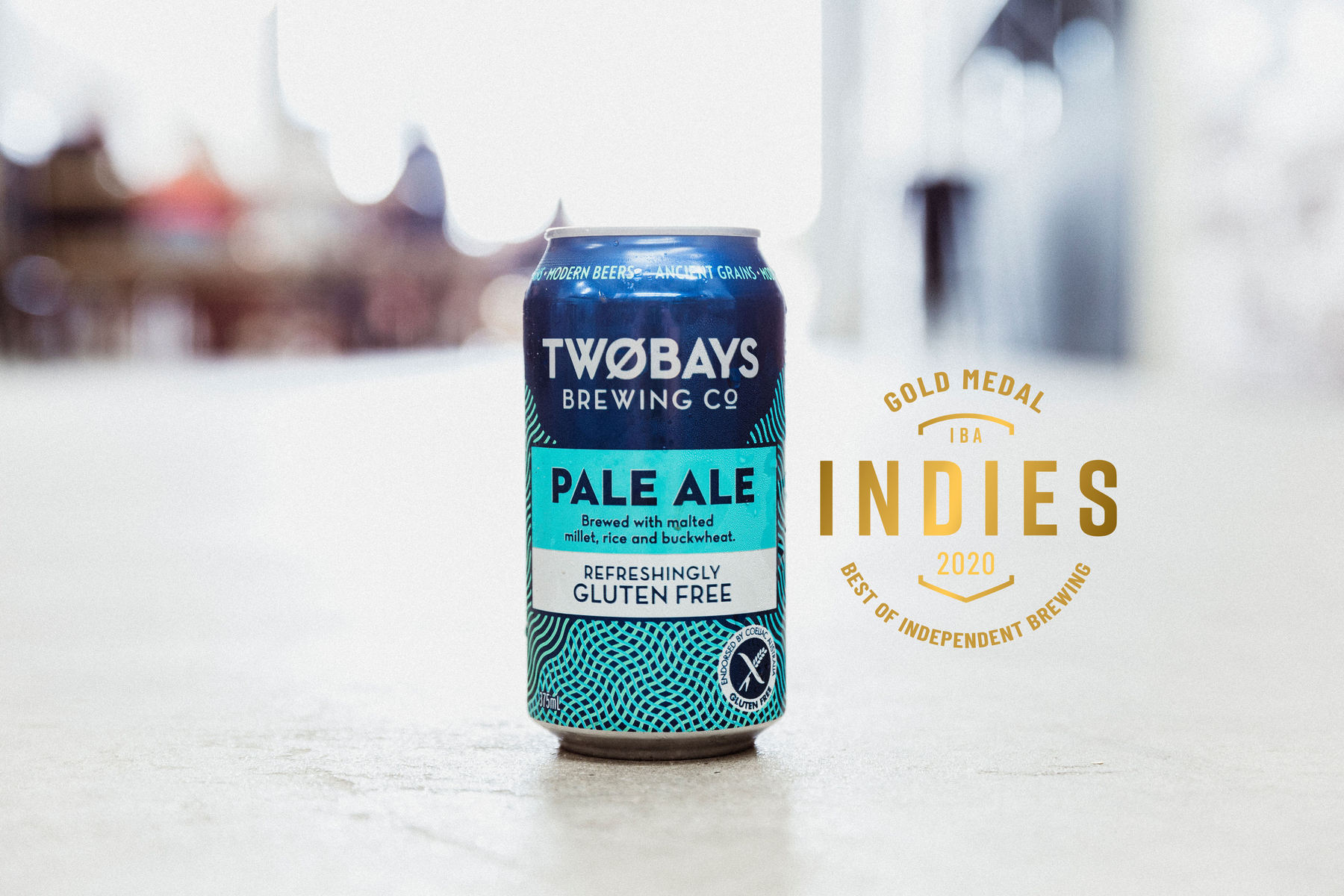 Gold medal number 1 for gluten free Pale Ale
TWØBAYS Brewing Co has stacked up a pile of milestones since opening a gluten free brewery in December 2018. And now the team can proudly place its first gold medal behind the bar.
The Victorian brewery, based in 'The Habitat' in the Dromana Industrial Estate on the Mornington Peninsula, won a gold medal for its Pale Ale at the Independent Brewer's Association Beer Awards on Thursday 20th November. 
The Pale Ale was the first beer released when TWØBAYS opened Australia's only dedicated gluten free brewery and taproom almost two years ago.
"We are absolutely ecstatic to have been awarded this gold medal as it's a real reflection of the quality of our beers," says CEO and Founder Richard Jeffares.
"To receive a gold medal, your beer has to be of an exceptional standard – it's not a first-second-third-place scenario – many categories don't award any gold medals! We're so grateful for the amazing team we've built over the last two years and we're looking forward to being awarded many more medals!"
"Back in October 2018, we took two Pale Ales to the Melbourne Gluten Free Expo and asked anyone who visited our stall to sample and vote for their favourite. There was a clear winner so we launched with that beer and now it's front and centre in our core range."
"Mornington Peninsula's breweries are competing with other craft beer hotspots across the country and we're faring really well, with another big medal haul this year! We're just pumped to be a part of that now."
In a year that has seen great challenges, TWØBAYS has also secured a presence across Australia with its beers in independent venue and bottle shops in every state and territory, and its gold-medal winning Pale Ale in all Dan Murphy's stores nationwide.
In order to manage growing demand, the team has installed new tanks to more than double its brewing capacity, and while the Pale Ale is a firm favourite among Australia's gluten free community and craft beer lovers, the brewery is only just starting out with its explorative nature.
"The Pale Ale is a great place for people to start with our beer, but we want everybody to have to full craft beer experience," says Jeffares who missed that experience after being diagnosed with Coeliac Disease in 2015.
"That's why we brewed a Hoppy Brown Ale which is now ranked Australia's best gluten free beer on untappd.com. It's why we released a Red Ale and a Passionfruit Sour, with plenty more to come."
"We've had more than 30 beer styles through our Dromana taproom, from a lentil-based mid-strength to an 8.0% Double IPA. The gluten free community has not had the opportunity to try these beer styles from an Australian brewery before."
"I started this brewery and opened a Taproom so that people could safely explore beer and compare notes with friends and family over gluten free pizza just metres away from the stainless steel. What has really surprised us, is how many 'non-gluten free' customers come in just to explore beers made from alternative malts, like millet and buckwheat. And their feedback has been overwhelmingly positive!"
"Our other core range beers XPA and IPA picked up silver and bronze medals respectively, which really reflects the consistency across our beer range – which is what we are really focused on delivering."
In our craft beer Taproom, the award-winning Pale Ale, XPA and IPA are pouring alongside new beers Pulp Fusion, S.M.A.S.H. and Lowtide Lager, and old favourites Experilentil, Mosaic IPA and Ollie's Hoppy Brown Ale, with wood-fired gluten free pizzas to boot. 
Hit the button below for gluten free beer delivery options!