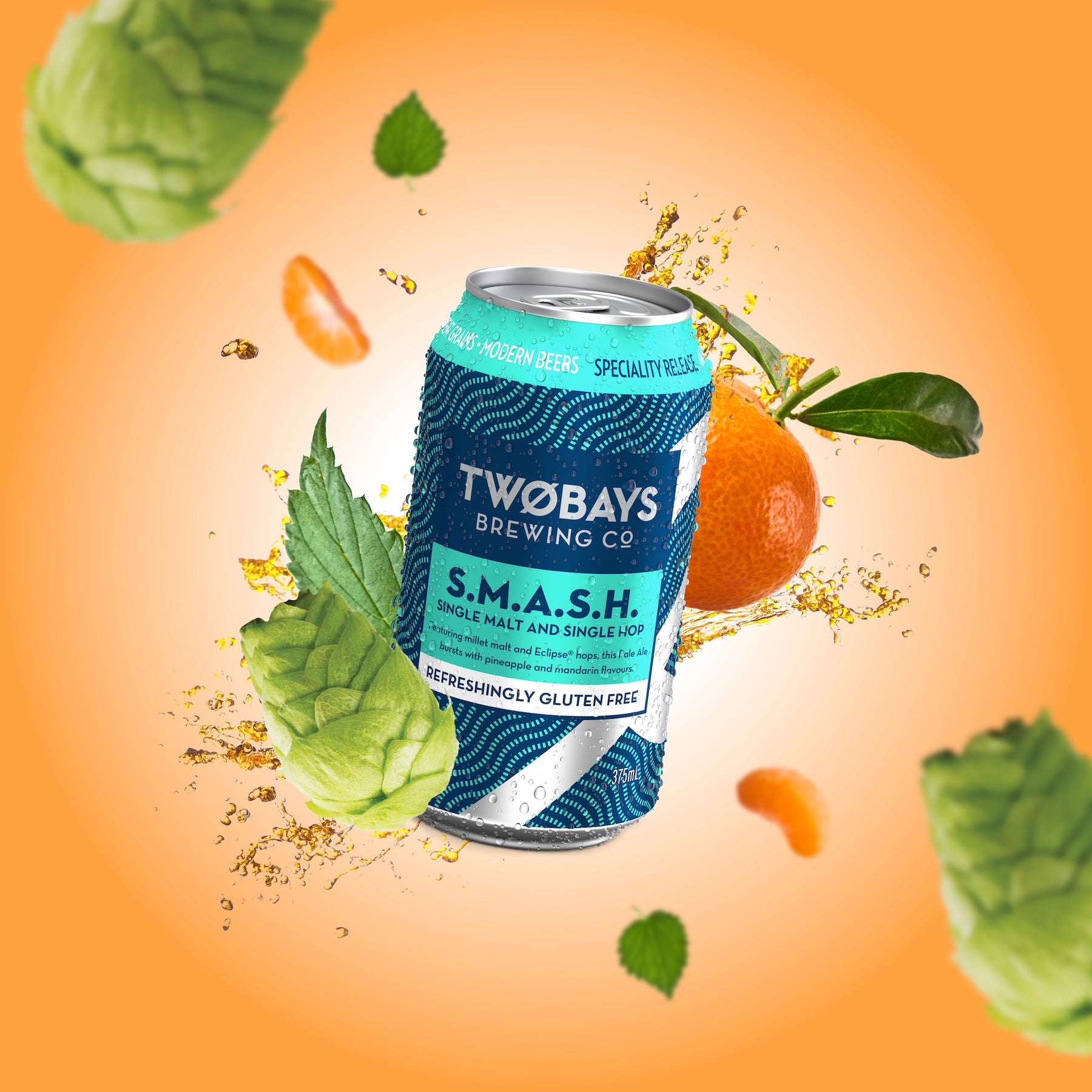 Limited Release #7: S.M.A.S.H. Single Malt And Single Hop Beer (feat. Eclipse®)
Just 15 days ago Hop Products Australia (HPA) launched Eclipse®, its newest proprietary variety from a hop breeding program that began in 2004. 
It was such a big deal that some of Australia's most famous craft breweries collaborated on 12 special release beers to celebrate. 
Now, we can unveil the first gluten free beer to be released featuring the fruit-forward flavour hop; our Single Malt and Single Hop (S.M.A.S.H.) beer! 
The TWØBAYS brew team has created the perfect beer to showcase both the Eclipse® hop and Vienna millet malt, bursting with sweet mandarin and pineapple flavours. 
The Big Reveal!!!
This is S.M.A.S.H Eclipse® Pale Ale! (4.4% abv) 
"It's great to have the opportunity to work with Eclipse®," says head brewer Kristian Martin. 
"Engaging with new hops as they are released really shows the credibility of TWØBAYS as not just a Gluten Free brewery, but also a modern craft brewery."  
"While Pale Ale's and XPA's regularly feature two to three hops, S.M.A.S.H beers are formulated by choosing one malt and one hop that work well together, and giving them a chance to really shine."  
"This provides beer drinkers with an opportunity to try new ingredients as they are developed and released into the market. It's great for the Australian gluten free community, as this is not something that has been on the table before." 
"In the case of this beer, the Vienna Millet and Eclipse® hop combination works fantastically. It shows how clean Millet can be (which out of all of our grains shares the most similarities to 'non-gluten free beer') and really accentuates hoppy flavours."  
As with our Mosaic Session IPA, this Speciality Limited Edition Release puts the spotlight on a single hop – and this hop variety also sits towards the fruit end of the spectrum, featuring mandarin, zesty citrus peel, and fresh pine needles. 
And after Red Rocks Red Ale was so well received, we know Australians enjoy exploring the complexity of a beer that exposes a millet malt. 
"Kristian and Ajay are showcasing the diversity of gluten free malts – and the adventurous character of our business," says Founder Richard Jeffares. 
"We're really pushing the boundaries of gluten free beer – and we've only just started." 
To get first access to every new beer release in 2021, Join our Clan and like or follow our Facebook and Instagram accounts! 
You can order a carton of S.M.A.S.H. on it's own, or bundle up with our award-winning core beer and grab some S.M.A.S.H. celebration limited edition merch in one of our packs below!