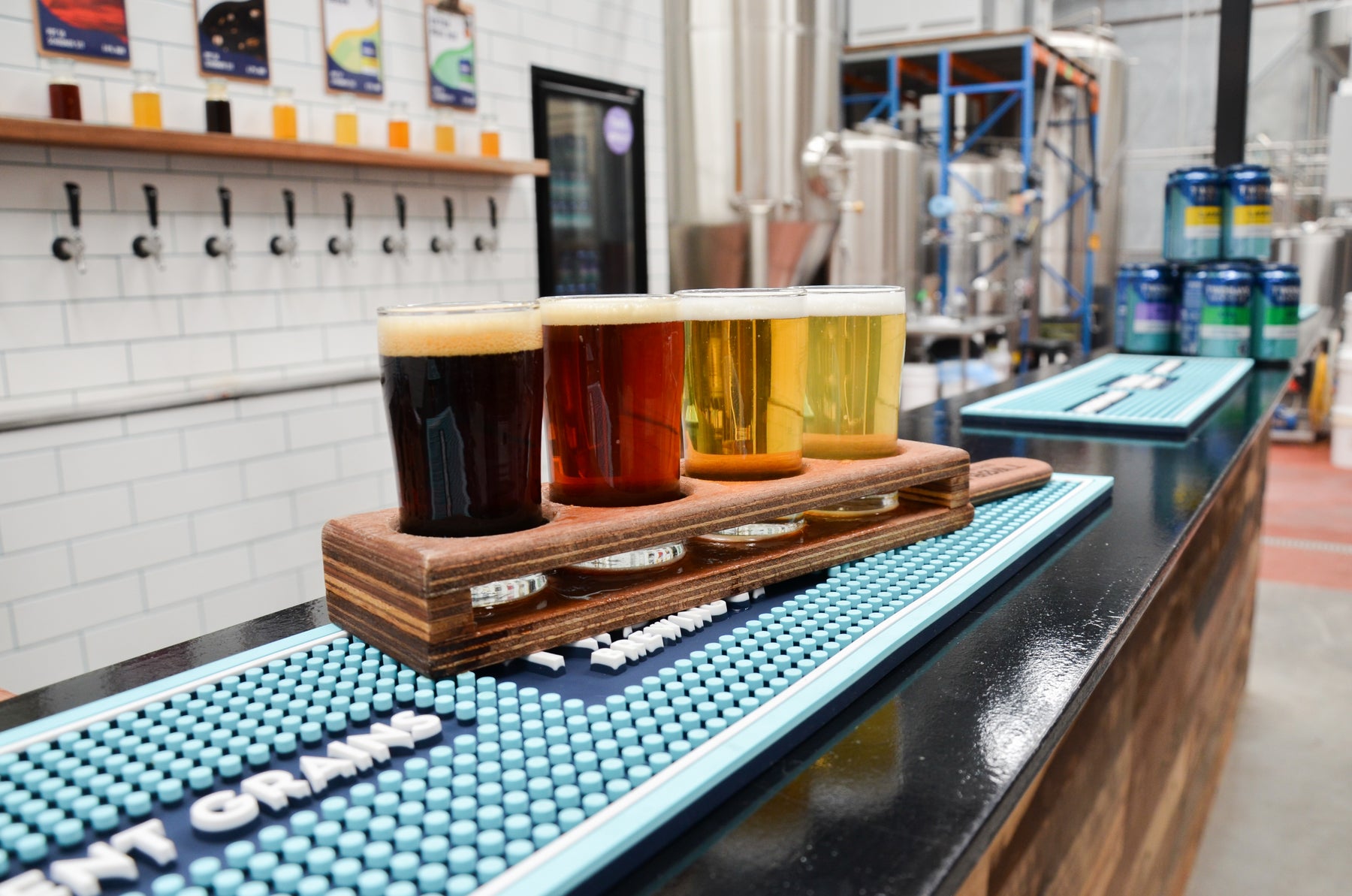 Tips on exploring gluten free beer
Northern US States were light years ahead, with more than ten gluten free craft breweries and a healthy market range when our founder Richard Jeffares visited in 2017, following his Coeliac diagnosis. 
Today, we're proud to say that the Australian gluten free community can choose from a growing range of award-winning beers – in fridges or on taps – influenced by the following factors: 
Familiarity (new/experienced to beer)

 

Seasonality (cold winter/hot summer)

 

Sessionality (quiet night in/big day out)

 
A TWØBAYS drinker may have only just turned 18, having not tasted many beers before; may have chosen to live a gluten free lifestyle in their mid 20s/30s having enjoyed craft beer for a decade; or may have been diagnosed with a gluten intolerance in their 50s/60s having enjoyed VB all their adult life.  
TWØBAYS Brewer Ajay Hill says: "If you're new to beer all together, a mid-strength Session Ale is the best place to start. It has a softer, well-balanced flavour that is light fruit notes without an aggressively bitter or dry finish. After that, tackle the beers from light to dark in colour!" 
Now there is choice, we can opt for a different style on a Victorian Tuesday night in front of the fire at home, versus a Queensland wedding in January. 
"Coming home from work, I love a beer with lighter flavours," says Geelong homebrewer Grant Cadwallander @theglutenfreebrewer. 
"GFB is perfect to start with. Then I'll move on to something more flavourful; maybe a Lager or Pale Ale, which I'll sit on over dinner. I like something that washes a mouthful down, without overpowering flavours which impact the taste and enjoyment of food. After dinner, I'll move onto something a little bolder, like an XPA or IPA, with a stout to finish." 
How to go out and enjoy gluten free beer 
Firstly, when you check if the venue serves gluten free food, check they also serve Coeliac Australia endorsed beer. If they're not, send them this link and ask them to! 
If they serve beer flights or tasting paddles, as we do at the Taproom (and most of the Free The Taps venues did during Coeliac Awareness Week), that's a great place to start. A 150ml sample can help you decide which beer you might want to enjoy with a meal – or which beer you might want to Session on for an afternoon. It might also leave you wanting to try more of each! (Check here for your local). 
The bar staff at our Mornington Peninsula brewery will always present your paddle in recommended drinking order; starting with lighter tasting beers (generally lower alcohol volume), and moving to more complex, often heavier beers (generally more malt or hops used and therefore a higher alcohol volume). 
You can either take Grant's approach to food-matching beers (above), or you can choose easy-drinking beers with heavier meals (Parma, Pie, Fish and Chips, etc.), hoppier beers to cut through spicy food, or darker beers to complement desserts, or with cheese.  
"The best thing about beer is that it all comes down to personal preference," says TWØBAYS founder Richard Jeffares. 
"I don't like it when I hear people say 'that beer is shit', because it may be the favourite beer for many other people – just not that particular person. We know from customer feedback, that everyone seems to have a different favourite beer! 
"It's why I started this brewery. Obviously, I wanted more beer to choose from myself, but I also believe that variety and comparing notes is what it's all about. Beer is a conversation, and I missed debating favourite flavours!" 
How to enjoy gluten free beer at home 
The same principles apply at home and at a friend's barbecue; whether you're picking up beers from your local bottleshop or ordering online. If you have a range to choose from – or if you're new to gluten free beer – start with easy-drinkers and move through to more complex beers. If you know what you want to drink on that particular day, stick to it – there's nothing wrong with that! 
"It's why we've released six core range beers with different flavour profiles and alcohol volumes," adds Richard.  
"We know some people will have a preference and stick to one style, and we want those to always be available and accessible across Australia for every occasion. TWØBAYS Session Ale was brewed because customers were asking us for lower-alcohol beers, to be able to responsibly enjoy a few over a longer period of time. GFB Draught was for the customer that just wants a classic Aussie 'no frills' Draught." 
Order a TWØBAYS Taster Pack here >> 16 Cans, 8 different styles << to start exploring gluten free beer!
⭐⭐⭐⭐⭐ GFB Draught "A really nice easy to drink beer and a great price for a slab of quality GF beer." Anna P. 
⭐⭐⭐⭐⭐  TWØBAYS Lager "Tasty, easy to drink, good times – If you're after something a bit more straightforward in flavour, this is your beer." Nathan S. 
⭐⭐⭐⭐⭐ TWØBAYS Session Ale "Easy Drinking – Great Beer for when you know you might have a few! My weekday go-to beer! Heather M.  
⭐⭐⭐⭐⭐ ️ TWØBAYS Pale Ale "Thanks for making the best beers I've had ever! So glad I can finally actually enjoy beer again after being diagnosed with coeliac disease a few years ago. Everyone I've shared it with has said it's up with their favourite beers (not just gluten free ones). Pale ale is a winner for me." Ashleigh G. 
⭐⭐⭐⭐⭐ TWØBAYS XPA "Seemed like when I hit 40 my guts just gave up on regular beer. I was sad, my life was missing something. Then I found this beer. This beer is great, I cannot believe that it is gluten free as compared to other GF or low GF beers I have tried it is awesome. I am sure that your bearded hipster mates will love it too. Nice, full bodied craft beer, nice nose and great flavour." Daniel E. 
⭐⭐⭐⭐⭐ TWØBAYS IPA "I have always loved an IPA, bitter, happy and full of flavour. That's what you have achieved. I love it. Please don't stop at this, make another and then another. Very happy customer." Flick B 
What to look for in beer 
Try and buy your beer fresh – especially the hoppier beers. We pride ourselves on getting beer to you as quickly as possible, so that you can drink it fresh. While beers with big hop content are best consumed within three or four months; sour beers and darker beers have a bit more of a shelf life – up to a year (you can check the pack date on the bottom of our cans). 
TWØBAYS Easy-Drinking Beers 
GFB Draught

 

TWØBAYS Session Ale

 

TWØBAYS Lager 

 

TWØBAYS Mandarin Rice Lager (Limited Release)

 

TWØBAYS Pale Ale

 
TWØBAYS Hoppier Beers 
TWØBAYS Malty Beers 
TWØBAYS Sour Beers 
TWØBAYS Margarita Sour (Limited Release)

 

TWØBAYS Pulp Fusion Passionfruit Sour*

 
*denotes not currently available online 
Do I drink beer from can or glass? 
If you're at home, we recommend cracking your can into a 'beer clean' glass. If you're seeing bubbles clinging to your glass, it's a sign that your glass is not completely clean.  
Handwash with a dedicated beer glass brush or sponge with no detergent (sprinkle bicarb soda instead)

 

Drip dry upside down on a tray with ventilation

 

Rinse before pouring beer

 
Regardless of where you are, it's great to see the colour of your beer and to notice how it laces down the side of your glass (leaving those beautiful frothy marks). Naturally, gluten free beer doesn't hold such a frothy head, due to the lack of proteins in gluten free malts – but we're working to improve that. It's important to us! 
There are myriad different shapes and sizes when it comes to beer glasses, and some are better for different styles. But first and foremost, we recommend you choose a glass that you can get your nose into when you drink. It's super important to use as many senses as possible to enjoy a beer. Try pinching your nose when you drink and notice how it dulls the flavour! 
And if you're at a barbecue and you want to keep hands warm and beer cold, there's nothing wrong with a stubby holder. 
You can order branded TWØBAYS glasses and stubby holders online here.