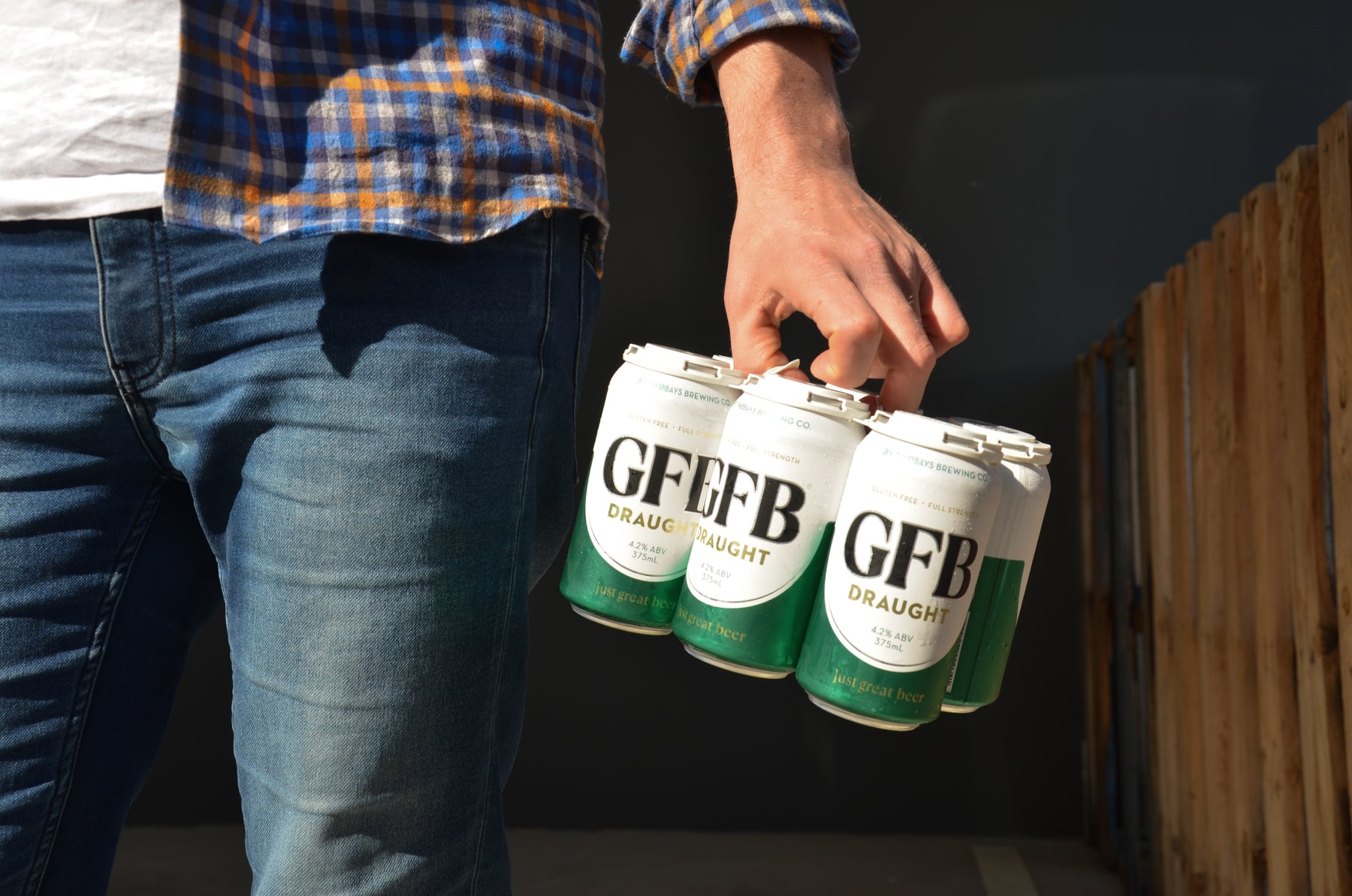 Welcome To GFB: Just Great Beer – Our Biggest Gluten Free Beer Launch Since 2018
Update 24 hours after blog published: First batch sold out! Pre-orders for early October delivery now open👇
Order GFB Draught Online: 24x 375ml-can Slab
GFB Draught: Looking after Australia's 6 million Gluten Free consumers (Stock GFB Draught)
In what is TWØBAYS biggest launch since our first beer in 2018, we have released a new brand. GFB is a beer for every gluten free consumer (over the age of 18) in Australia. 
Brewed in our dedicated gluten free brewery, the first beer in the GFB range is a full-strength Draught. It's clean, crisp and refreshing, and it's endorsed by Coeliac Australia. 
We know that a large community of Aussies love exploring the world of gluten free craft beer, from Sours to Imperial Red IIPAs, and we're going to continue on that brewing journey. But we've also had feedback that people just want an easy-drinking classic Aussie beer taste too.  
So our talented brew team has been busy working on the best recipe to add to our gluten free beer offering. The great-tasting, full-strength Draught beer is lightly hopped with a simple malt base – an easy drinker all year round, right across Australia.  
"Everyone has their own unique taste preference," says TWØBAYS CEO and Founder Richard Jeffares. 
"That's what makes beer so interesting. And we believe in beer choice for everyone. It's why we're so excited to launch this new gluten free beer brand.  
"For people who avoid gluten, this presents another opportunity to enjoy a beer like everyone else; whether at home, watching the footy, or at a barbecue with friends and family. Nobody should have to miss out on the experience of sharing a beer with family or friends.  
"With GFB, we're paying homage to a classic Aussie taste. And after being diagnosed with Coeliac Disease in 2015, I for one am very excited to have that beer back in my fridge." 
How is it different from any other TWØBAYS beer? 
Until this point, TWØBAYS has been solely focused on pushing the boundaries of craft beer so that gluten free beer drinkers could enjoy the full craft experience like anybody else. While we have pushed the boundaries with GFB, it's designed to have that classic Aussie taste, rather than something that is heavily hopped, or carries big malt flavours – or something that is more experimental with ingredients, mouthfeel and aroma. 
Unlike our TWØBAYS beers, which are brewed using millet, buckwheat and rice malts, GFB uses sorghum and rice malts to create that easy-drinking flavour profile. 
It's also available in 375ml-can six packs and 24-can slabs – which we have been asked for too!  
Where can I get it? 
GFB is only available (for now) here on our website in 24x 375ml-can slabs. Our team is working to get GFB Draught out to bottle shops and venues (as they open up) across the country, so that both our loyal following, and those new to TWØBAYS can grab a single can, a six pack or a schooner.  
To begin with, it's limited to one slab per customer, with $5 shipping into state capitals and major regional centres across Australia. 
Is the beer safe? 
GFB is Coeliac Australia endorsed and brewed in our dedicated gluten free brewery, with naturally gluten free ingredients. This eliminates any risk of gluten contamination. 
Fill your fridge for spring  
GFB is a great beer all year round, especially in the warmer months after a hard day's work or a trip to the beach. Help us pay homage to that classic Aussie beer taste and give GFB a try.