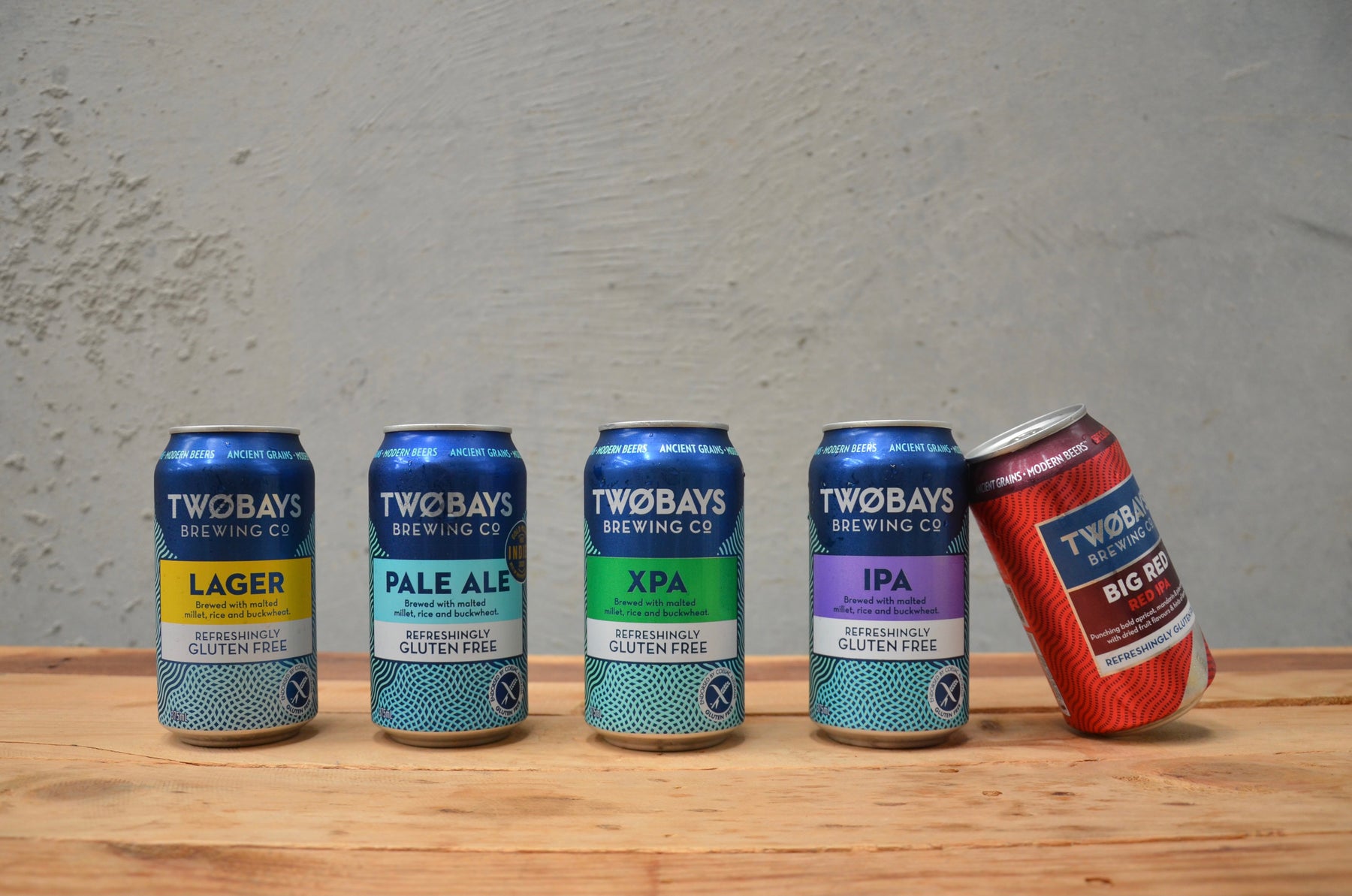 Gluten Free Beer Day 2021!
Happy International Beer Day!
There was a time when this was not a 'happy' day... when people who avoided gluten could not crack a can or raise a glass and say "I'll drink to that"!
Then along came gluten free beer.
At TWØBAYS Brewing Co, we believe people should not have to miss out on these magic moments and milestones, because we think that any excuse to drink great drink beer (responsibly of course) is a great excuse!
Whether it's over a footy game, a long overdue catch-up with friends, a big family feed, a cold winter night or a ripping summer day, it's why we brew a gluten free beer for every occasion.
And we released BIG RED IPA, in time for the prelude to International Beer Day... International IPA Day!
Big Red IPA 6.0% abv: Big Red is all about bold flavours, with West Coast hops marrying perfectly with the Red Wing Amber Malt. To be savoured on those cool season evenings.
These gluten free beers are available at Independent bottle shops around the country, as well as Dan Murphy's and selected Liquorland, BWS, Vintage Cellars and First Choice stores. Check out our stockist map for your local!
And on International Beer Day, we raise a schooner to all our friends and family, around the world, and another schooner to Jesse Avshalomov. In 2007, Jesse and his pals decided that beer needed its own day of international recognition. They convinced their local pub in Santa Cruz, California, to put on an event and everyone started to have a good 'ol time on the first Friday of August.
3 official purposes of International Beer Day (we added the bits in brackets)
To gather with friends and enjoy the taste of

 

beer. (More important than ever right now – even if it is virtually)
To celebrate those responsible for brewing and serving beer. (Especially those independent brewers)
To unite the world under the banner of beer, by celebrating the beers of all nations together on a single day. (Hell yeah!)
It is also suggested that those getting involved in international beer day (why wouldn't you?!) step out of their beer comfort zone and sample a beer from another culture... This is not so easy for gluten free beer drinkers – especially in the current climate, but why not send some TWØBAYS to a friend who doesn't have to avoid gluten? Share the love! 
We think Jesse would be pumped to know that there are such a wide range of wheat free beer and gluten free beer Australia can now enjoy – so that everyone can join in!
Cheers Jesse! Cheers to all the Mornington Peninsula Breweries! Cheers to our brew team Kristian and Ajay! Cheers to all our Taproom Bar Staff (and the whole TWØBAYS team)! And Cheers to you!
Enjoy the best gluten free beer this international beer day!